Welcome to Tecron Water Heating
Tecron Water Heating was established in 1997 due to the firm belief in the efficiency of copper hot water cylinders - because we like to manufacture products that'll last a lifetime.
A Tecron Hot Water Cylinder is a carefully refined copper water heater. Copper remains the global material of choice for the manufacturing of hot water cylinders, because it has proven its durability and reliability over decades.
Copper geysers have proven to be the geyser with the longest lifespan, because copper is naturally corrosion resistant and is used in its natural form for the manufacturing of geysers. A copper geyser doesn't require periodic servicing, like anode replacements. This makes a copper geyser more cost efficient over a long period of time.
Copper is an environmentally friendly metal. It does not deteriorate and has the highest recycling rate of any engineering metal in the world. Copper is naturally biostatic, so it prevents bacterial growth on its surface.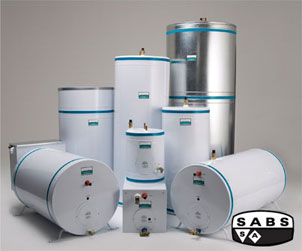 Tecron Cylinders use standard SABS approved elements and thermostats - thus, it's easy to find and replace if necessary.
All of our products have an aesthetically appealing baked enamel finish.
Tecron offers a comprehensive range of copper hot water cylinders to suit all water heating requirements.
Tecron products are locally manufactured.
Tecron Hot Water Cylinders are manufactured strictly in accordance with SABS specifications.
Custom made cylinders and trays can be manufactured in accordance with customer specifications and requirements.
---